All Graphic Supplies Caribbean
Summa L1810 Vision Laser Cutter
Regular price
$0.00&nbspUSD
$0.00&nbspUSD
Unit price
per
PERFECT FOR FAST FASHION, ATHLETIC CLOTHING AND TECHNICAL TEXTILES

Whether you are in the industry of fast fashion, athletic clothing or technical textiles, the L1810 serves as a perfect laser cutting system. Easy media handling options are added to further improve your workflow. Equipped with features such as a working area width of 1.8 m, a conveyor with de-reeler and a state-of-the-art camera, the L Series provides you with a highly accurate cut for every project. The L1810 is available in two models with and without Vision system. Both will seamlessly integrate into your print and cut workflow for a perfect synergy
LASER CAMERA TECHNOLOGY
The Summa laser cutting machines are equipped with unique camera technology, where you can choose which method is most suitable for your specific type of job. There are two types of cameras available: the Vision Camera (standard on the L3214) and the Head Camera (standard on the L1810).
Vision Camera System
Contour Cut Vision Trace
The Vision Trace method - tracing the contours of the designs - is advised to use on the L1810 laser cutter and very convenient when cutting sportswear. No cutting file is needed which adds to the automation and ease of use and reduces downtimes considerably. The Vision Camera System is optional on the L1810 laser cutter.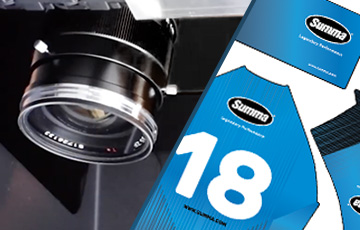 Head Camera System
Registration marks
The head camera system is standard mounted on the L1810 laser cutters (side note: optional on the FB Series). This camera system uses registration marks to process cut-to-size, as well as contour cutting jobs. Increased accuracy and advanced nesting capabilities not only ensure a clean-cut but also reduce material waste substantially.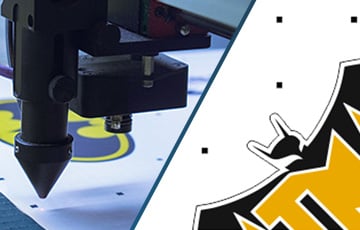 MODEL L1810/ SPORTSWEAR - DYE SUBLIMATION
Seamlessly meet requirements for cutting textiles

Especially suited to cut textiles 
Ability to cut all sorts of raw materials
Standard equipped with head camera
Vision system is optional
Suitable for high-production environments
Fast processing for more throughput in less time
---